Ramaiah Officers IAS Academy
We are now closer to you…

Officers IAS Academy now in Namma Bengaluru
Officers IAS Academy is the only UPSC (Civil Services) coaching institute in India that is founded and run by a team of former Civil Servants (5 IAS, and 1 IRS) to teach and mentor UPSC aspirants, in the process nurture and create the next generation of Civil Servants. Our endeavor is to emulate the Gurukul System, where the students are trained by the 'Gurus', to achieve what the 'Gurus' have themselves achieved.
What started as a small classroom in Chennai with just 7 students, today, has students from all across the country, right from Kashmir to Kanyakumari. To further expand our reach, we are starting a branch in Bengaluru, in partnership with the prestigious Ramaiah University, as "Ramaiah Officers IAS Academy." Our partner in this endeavor, Ramaiah University, has in its past 55 years, promoted over 20 institutions of academic excellence across the spectrum of applied sciences. They strive to produce graduates who are confident, creative and can apply their academic learning and practical skills to find innovative solutions to problems faced by the Society.
"Ramaiah Officers IAS Academy", though located in the Ramaiah University campus, will be open to all IAS/UPSC aspirants across Karnataka and the neighboring states. It will be same faculty of Officers IAS Academy, Chennai, who will teach in the Bengaluru branch.
It is a long established fact that a reader will be distracted by the readable content of a page when looking at its layout.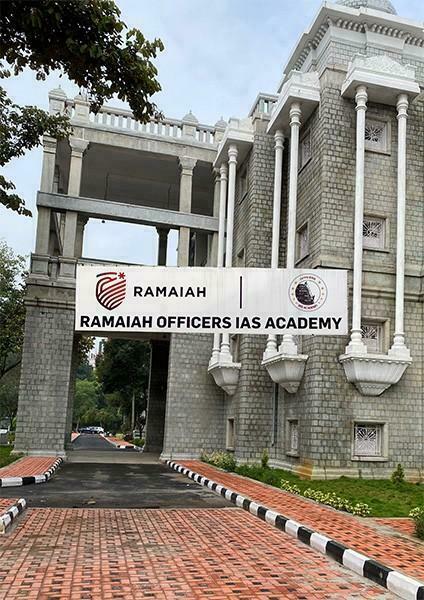 Ramaiah Officers IAS Academy.
Heritage building, next to school of social sciences MSR College Rd,
M S Ramaiah Nagar, Mathikere, Bengaluru,
Karnataka 560054
For details regarding admissions call :